July 2021
EIC Le Cube - Educational third-place
"Take your seat and take part in building tomorrow's world".


That's the motto inscribed above M. VANBRUGGHE David's desk, EIC CUBE Project Officer. Born from a long-time careful consideration about life-long employability, the EIC Cube defines itself as an educational third place, between academic and professionnel environment (businesses, association, territorial collectivity,...) and break the barrier and academic codes in order to ease the spirit of creativity and innovation. 
With a educational community of 6 200 students, the EIC Group includes one elementary school, four middle schools, two high-schools, one training center for adults and an academic campus that spread all over the city of Tourcoing, North of France. 

Located in an old textile factory and a truely industrial area, the EIC Cube, has a strong desire to be located out of traditional school walls and to be located at the heart of the complex. 
The Project
If, initially the project had a lot of ideas for building and layout for the Cube, the first users, students and teachers, have been incorporated to the thinking of spaces and equipments of the future EIC Cube. Therefore, they decided to launch an hackaton of 250 teachers, during one day, and another one with 3,000 students during one week, mixing levels and skills. Numerous innovative mock-ups and submissions appear with a strong desire of writting mobility all over the building.


Design full numeric spaces but available to all kind of public, more or less comfortable with technology.
Offer a writing mobility in all spaces without moving paperboards
Layout all 25 spaces according to their usage (computer, design, innovation,...)
VANERUM solutions
It turned out that the whiteboard was the best fitting tool to write and project content. Easy to use and clean by everyone, the whiteboard is a multi-content distribution medium. A single zone can be provided by 4 whiteboards that will allow the diffusion of 4 different content.
Customized, all the 42 whiteboards, measuring 1.5m height but with different widht from 2 to 5 meter, have been expanded all over the walls. The long-width whiteboards integrate videoprojectors.
The choice of sustainable and long-life products, produced in a local factory, was obvious. The whiteboard is 99% recyclable and its enamel surface, lifetime guaranteed, is easy to erease and clean, bacterial and chemical-product proof, and don't fear scratched and graffitis.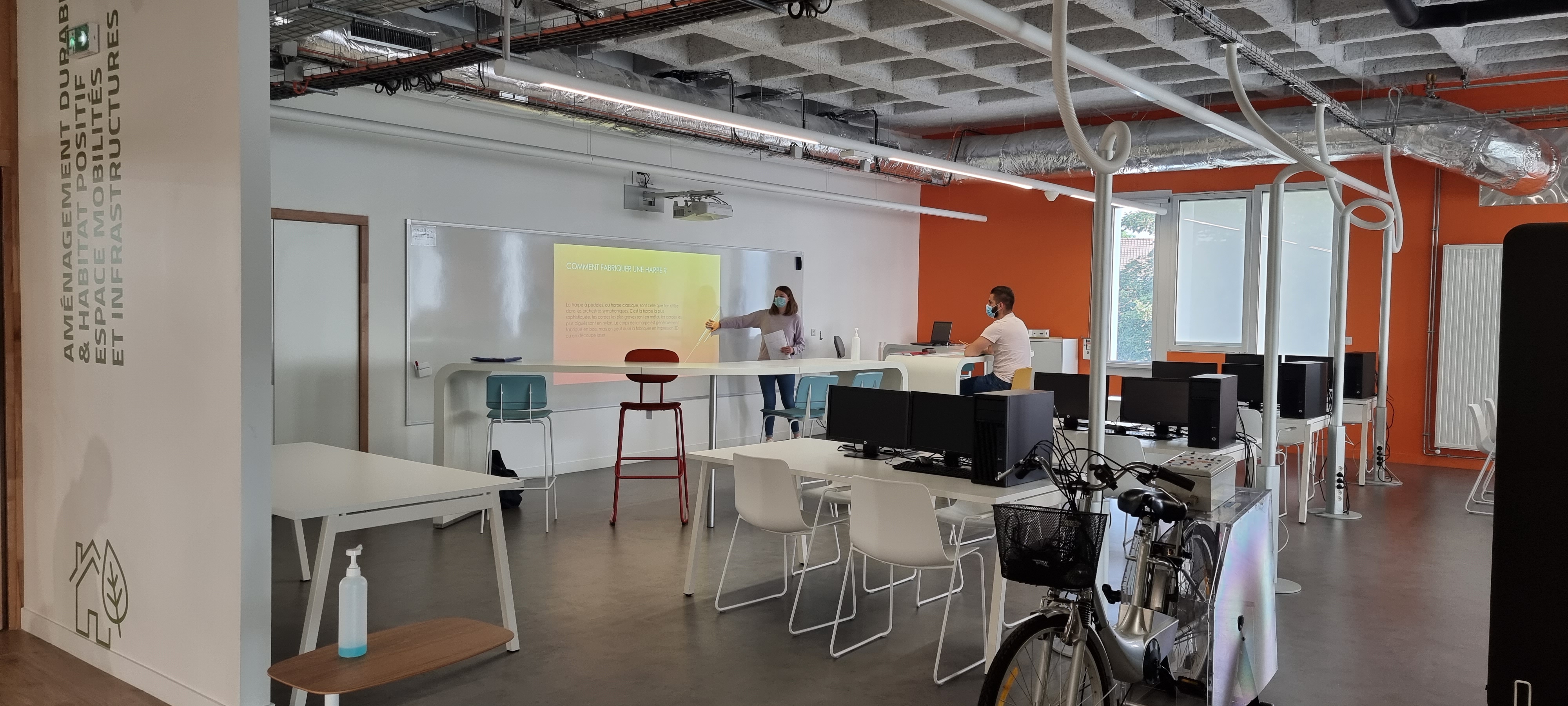 « We found it interesting to involve the users, who were at the genesis of the project, the students and teachers, in the reflection of spaces and equipment.»

Monsieur David VANBRUGGHE
Responsable des projets CUBE EIC