Flex Office & new ways of work
Flex Office & new ways of work
With the partitioned offices, the morning coffee remains one of the rare moments of conviviality before everyone returns to their own job. Without blaming them, traditional offices still represent 28% of workspaces. Some are nostalgic, others wonder how their elders managed to survive in such conditions without sinking into depression. Beyond the logistical and material aspects, the organizational overhaul covers other issues, human, managerial and economic.
Let's go for an overview to find the best place to work!


Open-space
We no longer present it. In France 24% of employees claim to experience it or have experienced it. You know open space; it is the concept where opening up walls would open up minds. The model, which arrived in Europe in the 90s, started to ran out of steam due to difficulties for employees to truly adhere to it. The constraints outweighed the benefits. And for good reason, considered impersonal, the production platforms are no longer on the rise.

Here are some ideas for making the most of your work environment.
First, limit to about ten people per set. Beyond that, it looks more like a chicken coop that could tire your employees, interfere with their concentration and limit interpersonal interactions. Then, we must promote a pleasant environment. Bet on lighting if you can, favoring natural lights and then unleash the colors. Why not pimp your walls in the colors of your charter? Take care of the acoustics and if necessary install acoustic panels. Your employees deserve it. And above all, above all, take care of the ergonomics of the offices and work on your layout. To facilitate movement, allow calm or encourage discussion. All these elements are decisive and influence our quality of life at work.
Another point, bring freshness, greenery and purify the air with the power of plants. You can also allow your employees to appropriate their own space by modulating the furniture or adding a personal touch. MONDI boards are the perfect example of the association of these materials (enamel, glass, acoustics, plants).
For or against, alternatives exist and there is still room for innovation.
Flex office
Second idea, the flex office. And no, this isn't the latest fad class in gyms. The flex office is defined as the intended lack of allocation of a specific workspace for an employee. In short, without a fixed office. Here we sign the end of a sedentary lifestyle at the office. The principle is that the work environment is adapted to the use of employees. With a brainstorming space for the creative phases, a phone room for customer/supplier calls, a meeting room for team discussions and then other informal places such as break rooms or a relaxation area. We will consider adding mobile boards that employees can use anywhere and anytime. SALSA glassboards are the ideal illustration of the mobility of easily cleanable display and writing surfaces thanks to their glass surface.


But beware, the flex office is not for everyone. To experience nomadism at work, it is better to know how to anticipate its organization, to ensure the availability of a room and equipment.
We have to accept that desktop personalization is limited to the wallpaper, so we will leave family photos at home. The flex office also requires having autonomous teams and moving light by going all-digital.


Desk sharing
Not to be confused with flex office, desk sharing or shared office is developing. Concretely this means, more employees than desks. And yes, owith the massive development of digital technology, a number of functions can be outsourced and work can become ubiquitous. It implies, the ability to work anywhere and anytime. And that represents opportunities. The employee can now work in a meeting room, at a client's office, in a co-working space, in a café or at home. In this context, when employees work together but remotely, we will consider adding mobile digital tools to facilitate discussion and teamwork. Here, look for example the i3SIXTY digital flipchart, this giant tablet will follow you wherever you need it. With its 4K camera, and its rotative screen, video exchanges are even more efficient!


On the other hand, part-time, shared-time, sick leave, leave and training mean that the occupancy rate of an assigned office is on average 60% and like each m² represents a cost and that the time is money, think about optimizing hours and spaces and this converges with the expectations of employees who seek comfort at work, a good balance, professional and personal life, and want to spare themselves time and commuting constraints.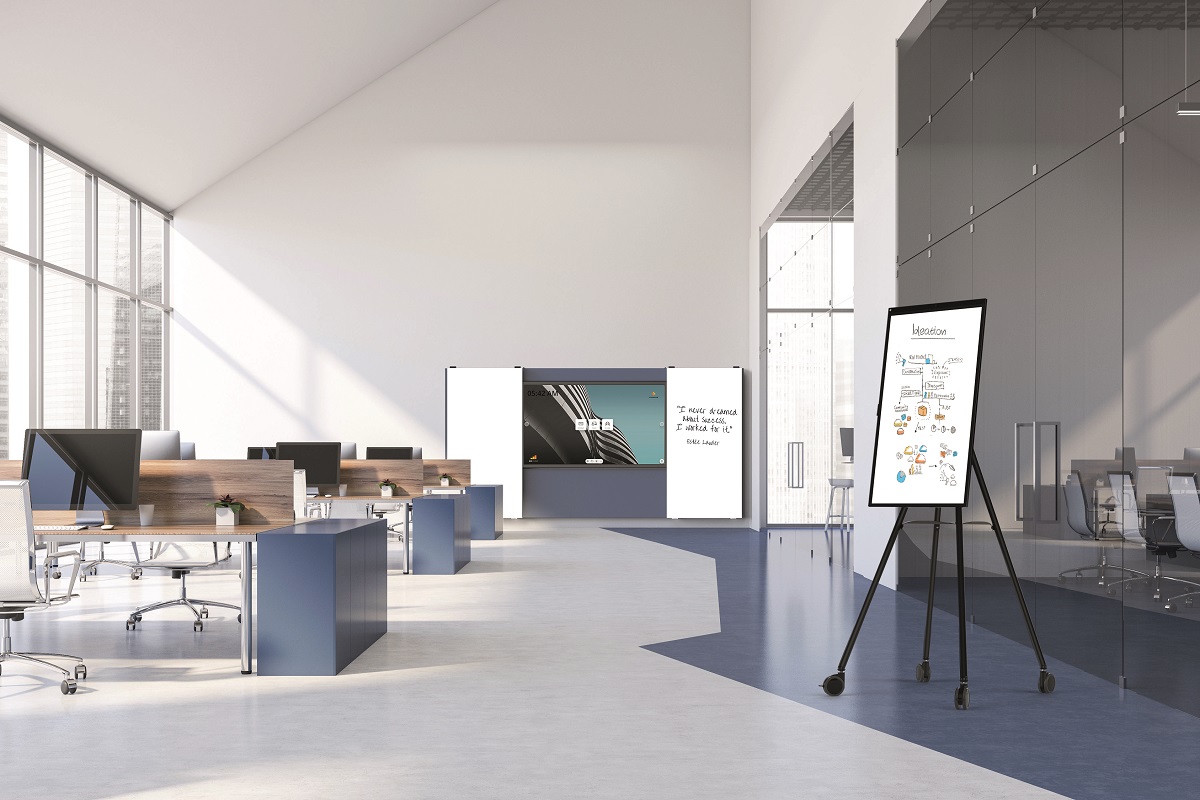 Remote working or home office
So, let us remember, remote working consists for the employee to carry out, outside the premises of the company, on a regular and voluntary basis, work that could have been carried out within it. Behind this way of working hide a whole bunch of clichés. Sometimes we get the image of that coworker working in his sleepwear starting his day at lunch break. But between dream and reality, there is a gap. The question of the right to disconnect arises.
Working remotely is above all an opportunity to experiment with a form of work organization integrating issues of life quality at work, professional qualities and performance. Home office can also be practiced full time, 100% homemade. More than a way of working, it is a way of life. This organization is particularly suitable for IT functions that rely on digital tools. It is also suitable for agile organizations, such as start-ups, which work internationally. It is easier and safer to recruit a remote person on the other side of the world first than to set up offices from the outset that include the burdens and complexities inherent in each country.

Co-working
At the end of 2017, 198 co-working spaces were listed in Île-de-France for a total of 186,000 m² and since then they have flourished throughout France. The concept is not new, the artist studios that already appear in the 19th century were precursors. They are spaces bringing together individuals pooling resources and exchanging ideas to nurture their creativity.
Access to fairly prestigious buildings in the heart of dynamic sectors has opened up the original target of co-working. Beyond the self-employed, Small and Medium Businesses are fond of it to meet their need for a closed office in a space offering multiple services and without the constraints of a commercial lease. Large groups are also experimenting with the concept to get project teams to work on it. Due to the number of users of these offices, MULTIWALLs prove to be a major ally. With a height of up to 3 meters and a width of up to 12 meters, there is no shortage of writing surfaces and you can share these spaces with other users of these spaces. Adding a video projector to the MULTIWALL will transform these writing spaces into immense projection surfaces!


The work environment is the top influencing factor for more than 80% of employees. It represents an important aspect of corporate culture, hence the need to fully integrate this dimension into its employer branding strategy to attract and retain employees.