Designing a brainstorming zone
Designing a brainstorming zone

Stimulate your collaborator's creativity : forget about traditional meeting rooms to design dedicated zones in order to allow your colleagues to find solutions to most complex stakes and invent tomorrow's concept. 

Creativity : a strategic stake

Frida Kahlo, Steve Jobs, Albert Einstein, Leonardo Da Vinci...what creative spirits! Some define creativity as the ability to have a broader, offbeat vision and capacity to developp new ideas, process, objects or products. While all companies try to find to innovate permanently in more and more competitive market, it is not a surprise that companies gives prominence to creativity : according to a study made by IBM made on 1,500 busines leaders, creativity would be the most useful personality trait to succeed in business. A creative spirit within the team stimulates the taking of initiatives, improving collective intelligence and proves to be a source of original and innovative solutions. A driving force in the team is beneficial for productivity and for the performance of the company. But how to developp and feed creativity ?
Hopefully, creativity is not magical gift whose only a few would be endowed ! If it seems innate, we can all train it as a muscle and improve our potential. Without going into details of neuroscientific studies, it would be above all about activate the network of concentration, imagination of about our brain salience.
Thus, create a specific zone to stimulate to three network is probably a good start, the aim is to avoid creating an ultimate meeting room !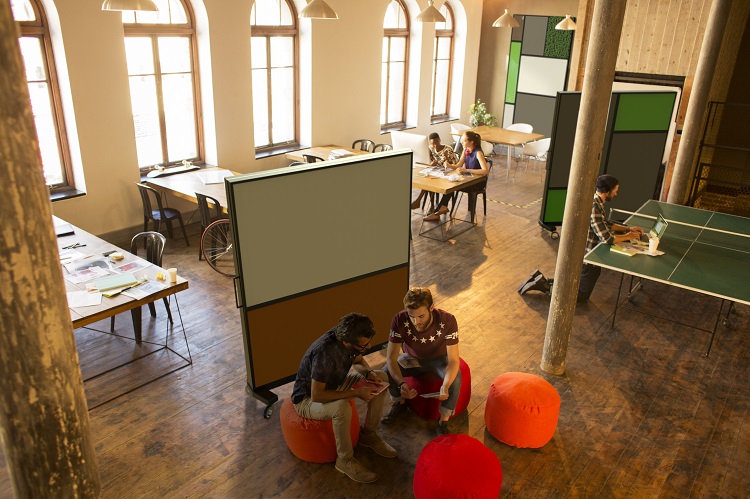 A space that stimulates imagination

To infinity and beyond
Throw off known habits of meeting rooms with a long central table surrounded by chairs. Your colleagues should be able to move freely to image the field of possibility

Large size boards in enamel or in glass, on all the walls, in the hallways or in the refectory, offer limitless fields of expression to display inspiring pictures and mantras, project plans, write ideas or draw schemas. Those expression walls allow your to visualize together a huge number of elements while easing collaboration. 
Configurable and reconfigurable
Let your employees take ownership of the space and organize it according to their needs by providing them with mobile furniture that they can easily move. Opt for a self-service mode with furniture that is easy to store and move, such as folding tables or chairs on casters, and of course mobile enamel or glass boards offer the possibility of creating work groups, of partitioning the front spaces. perhaps bring everyone together to conclude at the end of the session.
Inspirational and maybe blue
Often out of step with the general decoration of the premises, the brainstorming room is intended to be bright - natural light is ideal -, colorful and refined. The colors should not be chosen at random but according to their advantage: find our article on colors to help you in your choice. Blue has an impact on creativity while warm colors like red or orange energize employees. It all depends on your business goals! The glass boards that come in all the colors of the rainbow, will certainly allow you to reach them.
Possibly bring a touch of fantasy by breaking the codes and the sanitized side that an overly organized place would have. Discover with the Mondi Collection that a board is not necessarily a white rectangle but can take on a protean aspect, being able to adapt to the constraints or irregularities of a place, while providing maximum functionality.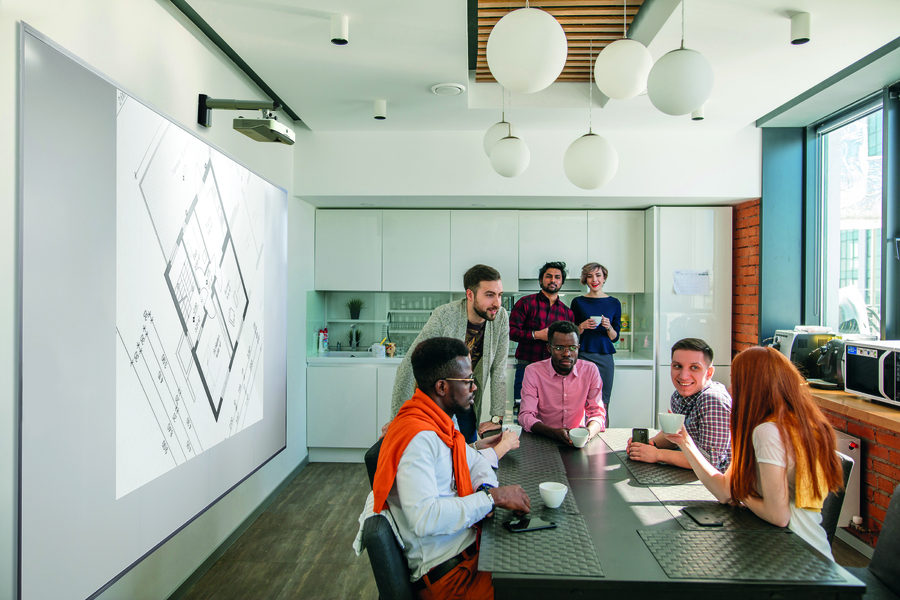 A space that helps concentration


Zero stress
Noise is often a stressor and in order to hear yourself think, it is important to design a space that provides a balanced sound level. Indeed, above 45 decibels, attention and short-term memory deteriorate. Our brains, programmed to interpret our environment and interact with it, listen in spite of themselves to conversations and noises and then interrupt the course of their reflections.
Without having to completely erase the noise, it is important to provide the necessary acoustic comfort thanks to absorbent panels placed on the wall or on partitions. Choose the acoustic panels for walls or mobile boards from the Mondi or Tipi collection. Sometimes a writing, display and projection surface, sometimes an acoustic partition, these boards combine the useful with the pleasant while integrating diverse and varied textures and colors. Partitions also help eliminate visual distractions.
100% well-being


While we have noted the importance of colors, green would thus have an impact on concentration. Then opt for a green glassboard or add a vegetal touch.
A source of good humor, plants also have strong psychological power. Providing a more welcoming and calming work environment, it helps increase productivity, reduce stress and stimulate creativity. So add a touch of green to your Mondi Gallery or Muse with stabilized lichen, which does not need light or watering.
While the coronavirus has changed our working habits, companies are rethinking the organization of work and the layout of offices, taking more than ever into account the well-being and health of their employees. More than a place of individual production, according to Actineo, "employees expect their professional environment to become a place of socialization, learning, development, even entertainment and relaxation. [...] It must promote exchanges, creativity, cooperation and collaborations internally and with the external and conviviality. A kind of "hub" composed of various spaces facilitating meetings, exchanges, sharing and relaxation."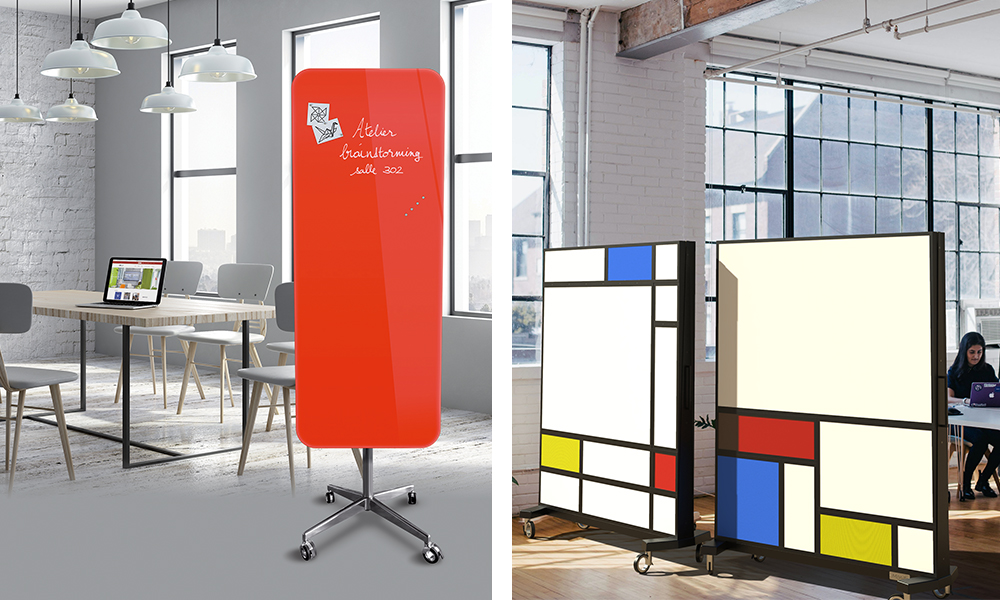 A space allows us to understand the world around us
Connected
New technologies are essential in today's world. Means of communication or sources of inspiration, they facilitate exchange and transmission. The internet connection must be excellent and opt for cutting-edge interactive solutions (screens, tables or interactive video projectors) to offer a perfect experience.
Despite the context of the pandemic, many employers have observed that their teams have developed solid ties thanks to videoconferencing, which allows them to overcome distances and create brainstorming sessions with people located at the other end. of the globe. The technology is useful in the organization of work sessions because it allows you to start work and then resume it later or share notes on other devices such as the smartphone.
Digital and analog mix
The experience shouldn't be just digital. Enjoy the best of both digital and analog worlds by combining the technology of your choice with a writing and display surface essential to any creative process. The MOMENTUM or the Vogue GLASSBOARD are designed to seamlessly integrate various technologies as well as the Basic + or Solution ranges.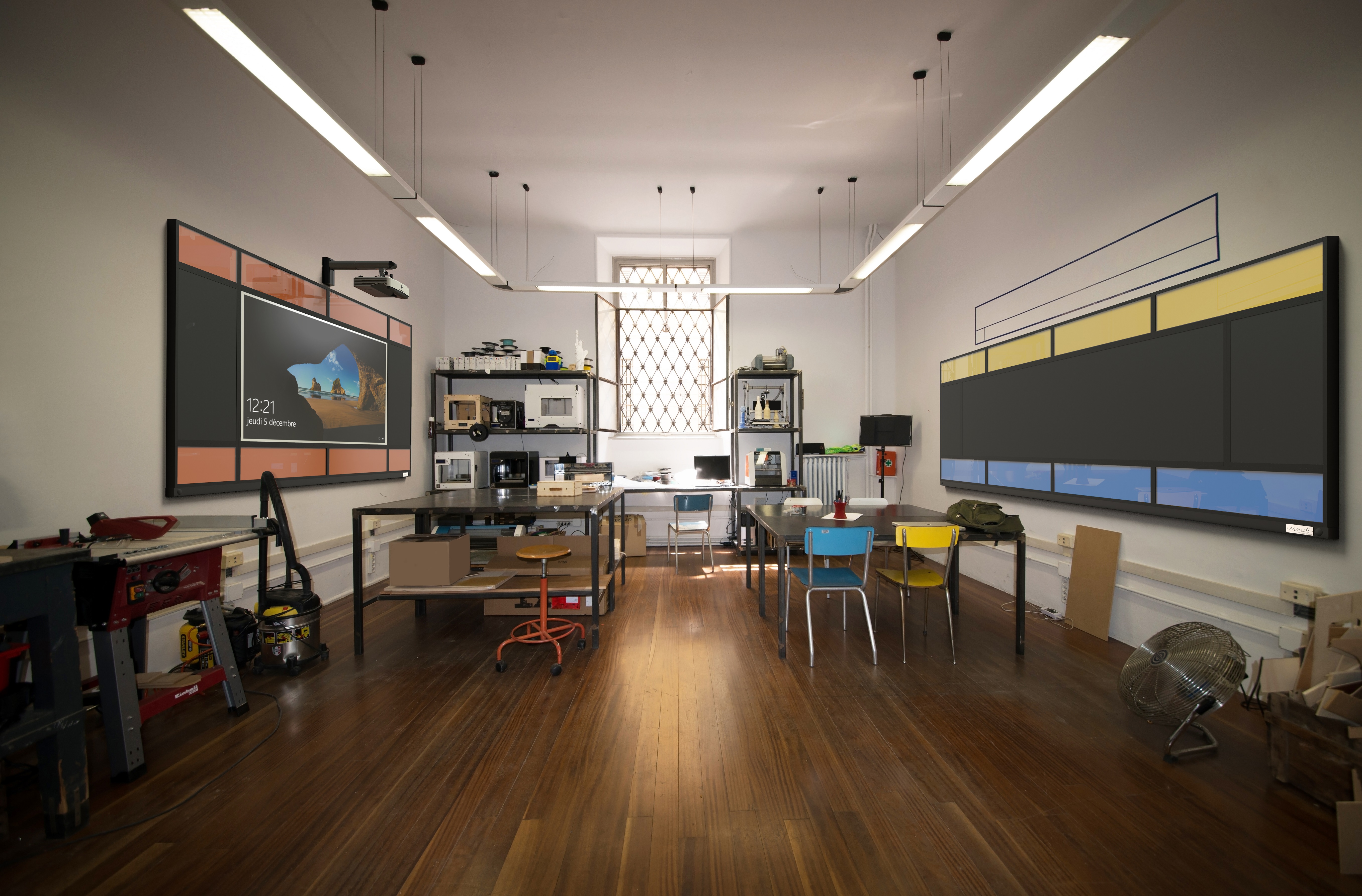 Finally, involve your employees and integrate them into a dynamic of stimulating collective reflection. In addition, you will be sure to meet the needs and expectations of the main users of your future room. And of course do not hesitate to contact us!